#ThinkLanguages 2019 was a great success as 3,000 TY students from all over Ireland came to the Convention Centre Dublin to learn more about what foreign language skills can add to their lives.
We had a morning and afternoon session and the TY students enjoyed a mix of live inspiring talks, workshops and an exhibition space. The event kicked off in the main auditorium with a spectacular performance by the Experience Japan Taiko Drum team.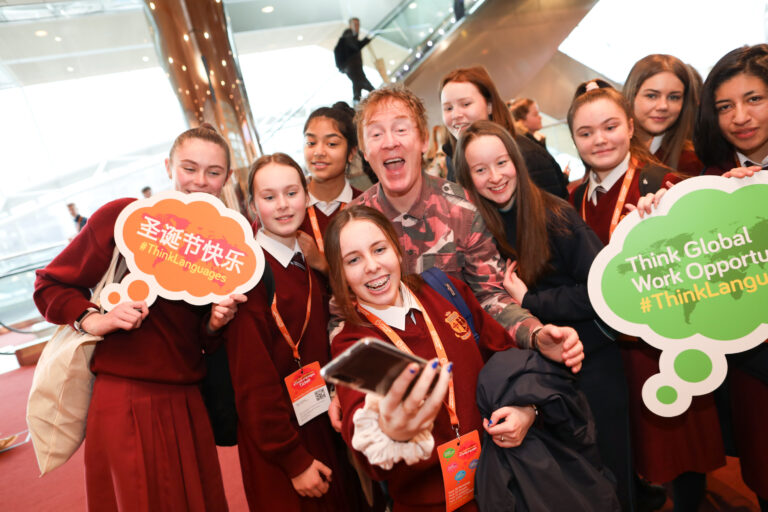 Karen Ruddock, PPLI Director welcomed everyone and was followed by interesting and insightful talks from Orlaith Tunney and Silvia Bertoni from Trinity College and Heather Murphy, an engineering student who spoke about how her French skills have helped her gain valuable international experience. After this came a fast-paced Italian interpretation session – where everyone could understand Salvo Cacciato and Lily Lee, with the help of European Commission interpreters. Keynote on the day came from Radio and TV broadcaster Hector O'Heochagain, who got the whole auditorium speaking…and even singing in Spanish!
After the much-enjoyed International Food Tasting, everyone went to their choice of workshops – with all tastes catered for. Everything from French for the Fashion Industry, Chinese Calligraphy, Linguistics, Interpretation, Taekwondo and Japanese origami helped bring these languages to life for all the students. Students also got the opportunity to meet a huge variety of exhibition stand holders – representatives from many third level language departments, foreign embassy staff, Irish government bodies like Bord Bia and Enterprise Ireland, the European Commission, cultural institutions and many more.
#ThinkLanguages 2019 Video Highlights