Around 12,000 TYs now registered!
Discover a world of languages and cultures at #ThinkLanguages. Celebrate all the fun and benefits of foreign language learning.
TYs from all over Ireland will join in a national celebration of languages on 22nd November 2021 and host #ThinkLanguages in their school. Our flagship TY event is going local again this year and will be bigger than ever with around 150 schools registered! 
Check out the video from #ThinkLanguages 2020.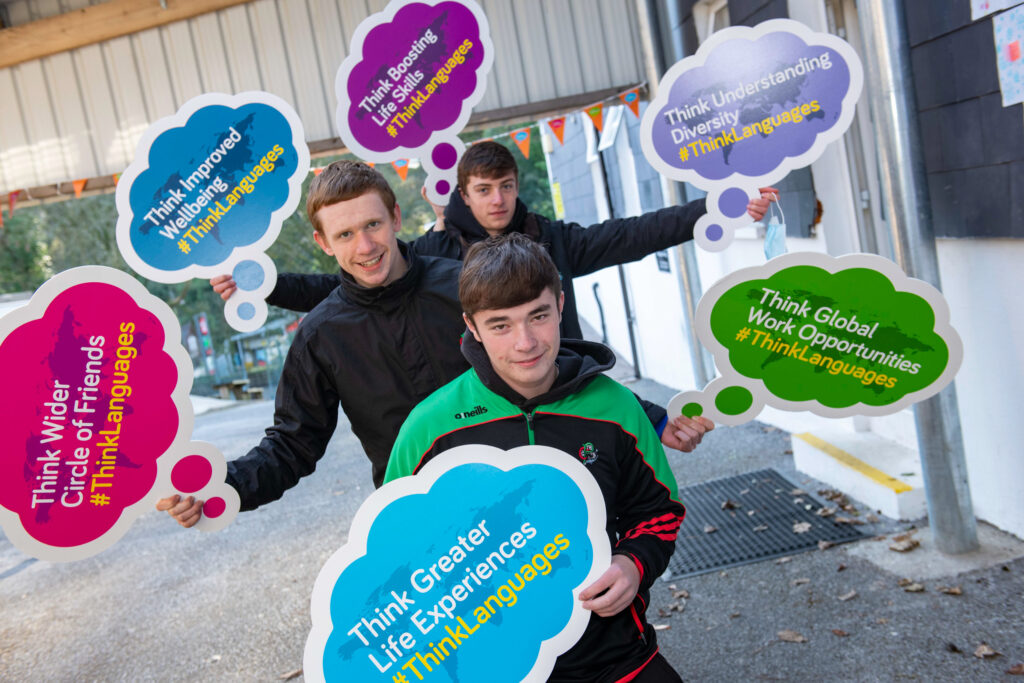 Fun & Enriching TY Experience
We are calling on TY students, TY coordinators and MFL teachers to manage their own local event with the support of the Languages Connect team. Languages Connect will provide online support and event management kits including Student and Teacher Guides, posters, flyers and promotional material for the day e.g. bunting, merchandise & prizes.
A mix of supports including streamed keynote speakers, a range of online workshops in many different languages, and the chance to have a live workshop or speaker at your school was also made available to registered schools.
How to Think Global and Act Local for #ThinkLanguages?
Each school can invite local speakers, workshops and businesses to take part and support their event.
Why not showcase the languages that are spoken in your school and used in your community? Explore how people use different languages in their lives, workplaces and families.
You can even get the Home Economics students to cook food from different countries and learn some new vocab that way! 
Maybe this year your team could get the local Primary School involved in some way?
#ThinkLanguages Champion Team
Appoint a #ThinkLanguages Champion Team of TY students and a #ThinkLanguages Team Lead (TY Coordinator or MFL Teacher) to help organise your event. Teams can compete for the National Award of #ThinkLanguages Champion Team of the Year. 
Lots of ideas on our social channels
We would encourage you to follow Languages Connect on social media channels for all the latest ideas and updates! For ideas of how #ThinkLanguages worked in 2020 and 2019, check out the playlist on our Youtube Channel. You'll find us on Twitter, Instagram and Facebook