Registration is now open!
Discover a world of languages and cultures at #ThinkLanguages. Celebrate all the fun and benefits of foreign language learning.
Join TYs from all over Ireland in a national celebration of languages on 22nd November 2021 and host #ThinkLanguages in your school. Our flagship TY event is going local again this year and with your help we want to make it bigger and better than ever! Registration opens soon – info will be available on the Languages Connect social media channels – so follow us today!
Check out the video from #ThinkLanguages 2020.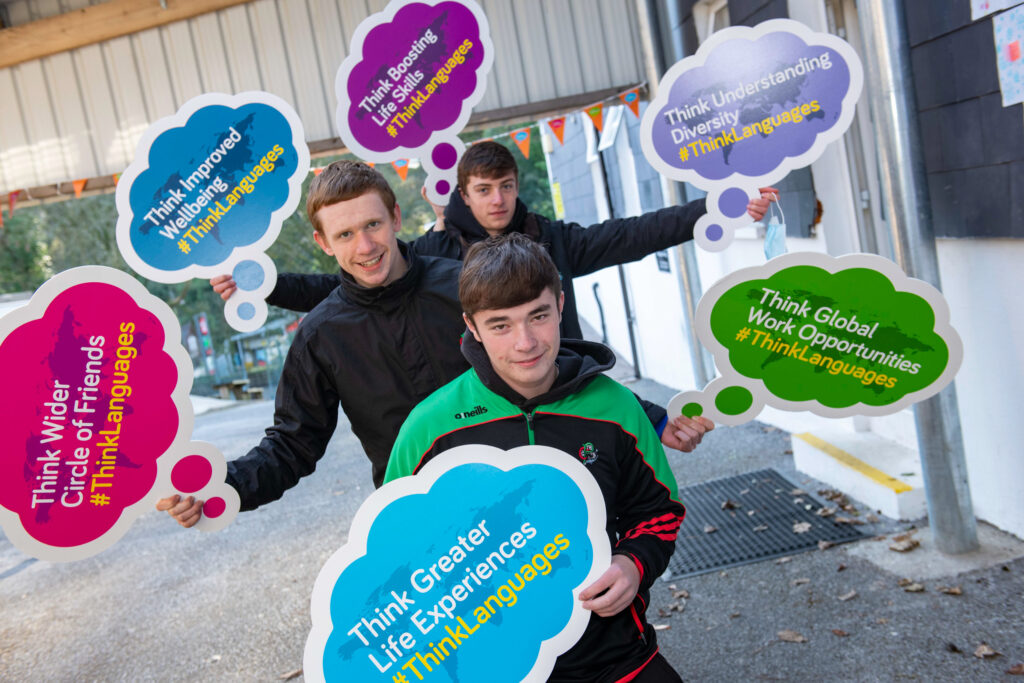 Fun & Enriching TY Experience
We are calling on TY students, TY coordinators and MFL teachers to manage their own local event with the support of the Languages Connect team. Languages Connect will provide online support and event management kits including Student and Teacher Guides, posters, flyers and promotional material for the day e.g. bunting, merchandise & prizes.
A mix of supports including streamed keynote speakers, a range of online workshops in many different languages, and the chance to have a live workshop or speaker at your school was also made available to registered schools.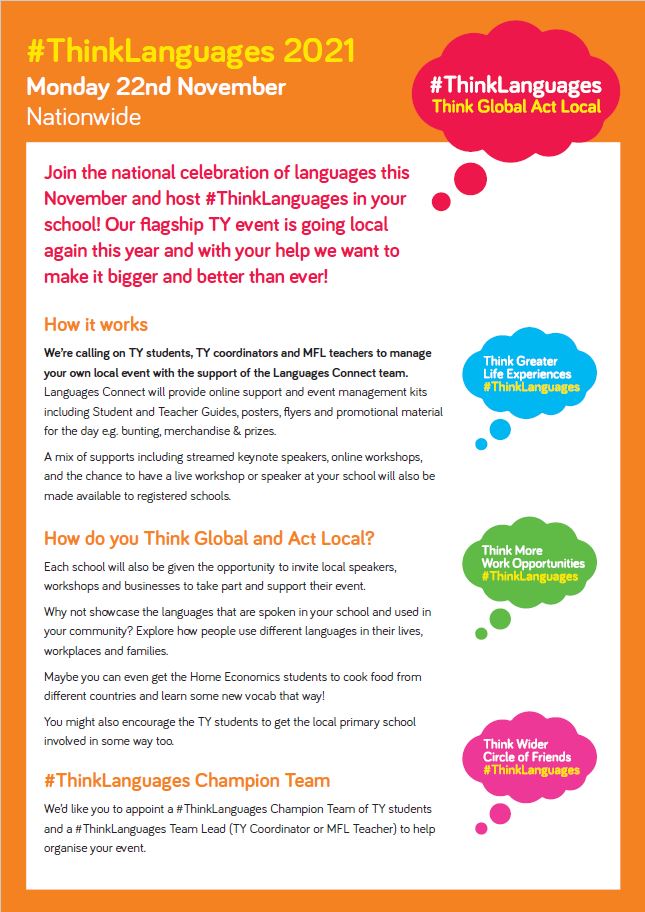 How to register your school
All you need to know about #ThinkLanguages 2021 is in out handy quick guide.
Please consult with members of your MFL Department and TY Coordinator before registering – there can only be one registration per school. Deadline for registrations is Friday 1st October. To register, click here
How to Think Global and Act Local for #ThinkLanguages?
Each school can invite local speakers, workshops and businesses to take part and support their event.
Why not showcase the languages that are spoken in your school and used in your community? Explore how people use different languages in their lives, workplaces and families.
You can even get the Home Economics students to cook food from different countries and learn some new vocab that way! 
Maybe this year your team could get the local Primary School involved in some way?
#ThinkLanguages Champion Team
Appoint a #ThinkLanguages Champion Team of TY students and a #ThinkLanguages Team Lead (TY Coordinator or MFL Teacher) to help organise your event. Teams can compete for the National Award of #ThinkLanguages Champion Team of the Year. 
Lots of ideas on our social channels
We would encourage you to follow Languages Connect on social media channels for all the latest ideas and updates! For ideas of how #ThinkLanguages worked in 2020 and 2019, check out the playlist on our Youtube Channel. You'll find us on Twitter, Instagram and Facebook
5000 TY students from 70 schools all across Ireland celebrated  #ThinkLanguages on 7th December 2020 – this made it the biggest student event in Ireland that year! 
We had a brilliant line-up for our streamed opening ceremony – our MC Zainab Boladale spoke to Des Bishop about how he built a career around learning languages and doing stand-up comedy in Chinese and Irish. Director General of Irish Aid, Ruairí de Burca discussed all the benefits that languages have brought him in his career and how you can use your languages to help people both at home and abroad. Orlaith Tunney, Trinity College Careers Consultant also spoke about career benefits of foreign langauge skills. These all followed an opening address from Minister for Education, Norma Foley TD.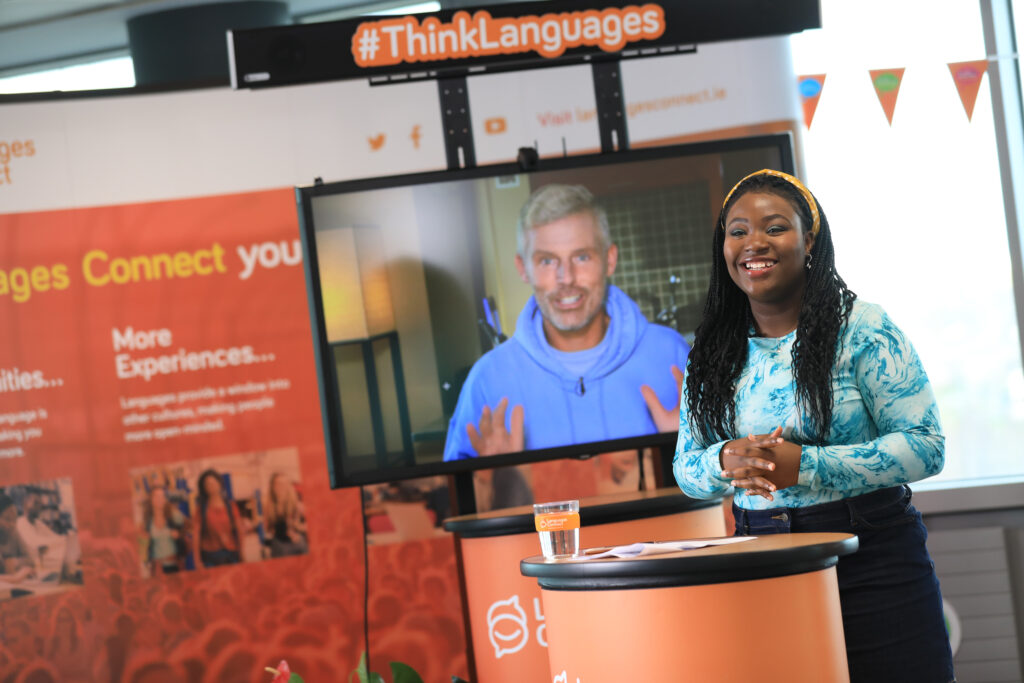 #ThinkLanguages National Award 2020
Well done to the #ThinkLanguages Champion Team at Coláiste an Phiarsaigh in Glanmire, Co Cork who won the overall Champion Team prize – great effort was put into a wonderful event for all involved!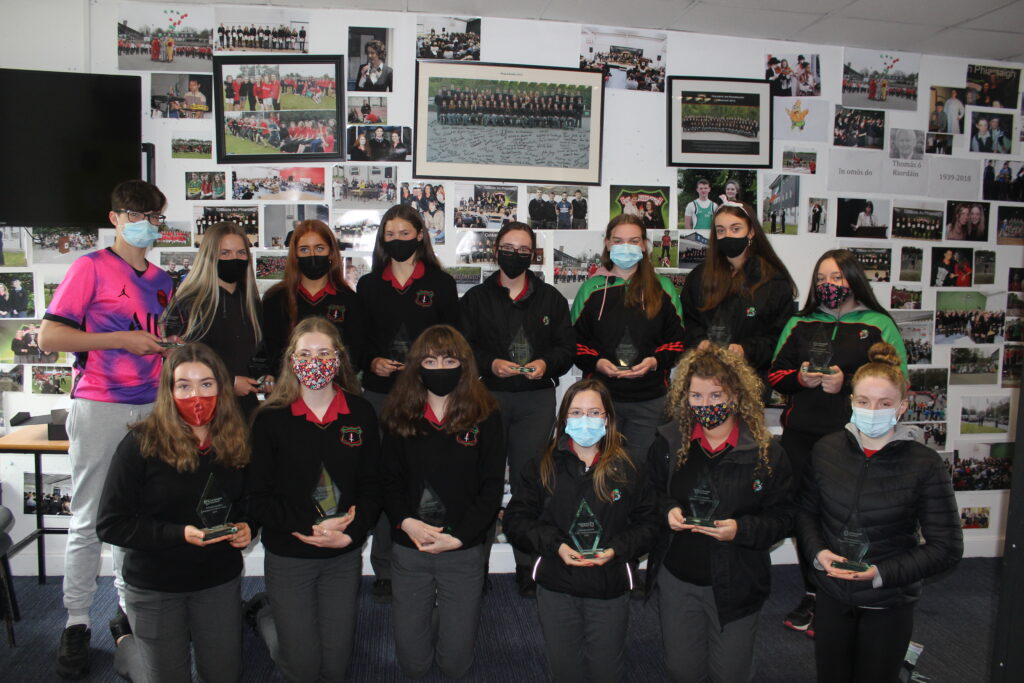 #ThinkLanguages 2019 – Convention Centre Dublin
#ThinkLanguages 2019 was a great success as 3000 TY students from all over Ireland came to the Convention Centre Dublin to learn more about what foreign language skills can add to their lives.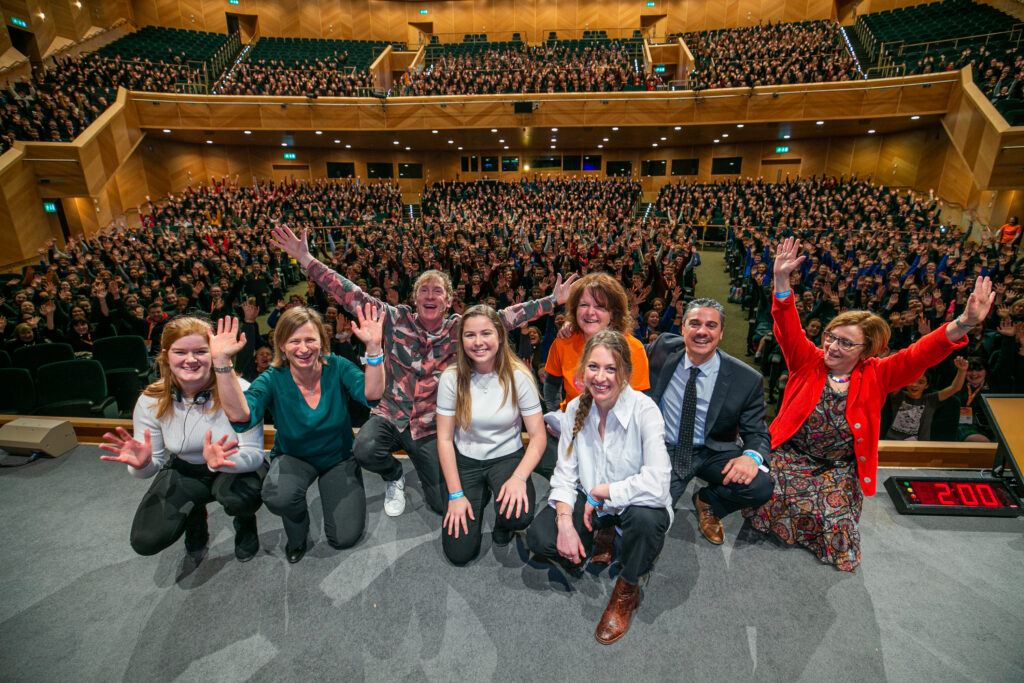 The event kicked off in the main auditorium with a spectacular performance by the Experience Japan Taiko Drum team. Karen Ruddock, PPLI Director welcomed everyone an was followed by interesting and insightful talks from Orlaith Tunney and Silvia Bertoni from Trinity College and Heather Murphy, an engineering student who spoke about her French skills have helped her gain valuable international experience. After this came a fast-paced Italian interpretation session – where everyone could understand Salvo Cacciato & Lily Lee, with the help of European Commission interpreters. Keynote on the day came from Radio and TV broadcaster Hector O'Heochagain, who got the whole auditorium speaking…and even singing in Spanish!
After the much enjoyed International Food Tasting, everyone went to their choice of workshops – with all tastes catered for. Everything from French for the Fashion Industry, Chinese Calligraphy, Linguistics, Interpretation, Taekwondo and Japanese origami helped bring these languages to life for all the students.
They also got the opportunity to meet a huge variety of exhibition stand holders – representatives from many third level language departments, foreign embassy staff, Irish government bodies like Bord Bia and Enterprise Ireland, the European Commission, cultural institutions and many more.
Thanks to all the students who took part in our survey on the day – we're very happy to report that 91% of you said that you really enjoyed the day and 78% said that the event changed your opinion about the value of foreign languages in the real world. We really hope you enjoyed the day and recommend it to next year's TY students.
Check out Youtube for all the latest videos from #ThinkLanguages 2019.