Spanish Competition Time!
Spanish Competition Time!
Win a week in Spain! 
Calling all 5th year students of Spanish. You could win a week in Spain for you, your friend, and your teacher! Flights, accommodation and Spanish course all included!
We are delighted to have teamed up with the Consejería de Educación de la Embajada de España en Dublin, La Junta de Castilla y León, and the Spanish Tourist Office in Dublin once again to offer this wonderful opportunity for 5th year students of Spanish.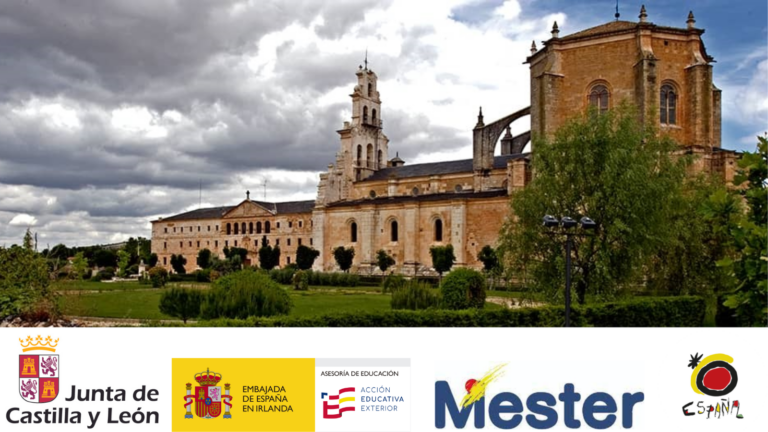 How to enter
To enter, produce a 2-minute video in Spanish illustrating an itinerary for "A weekend in Castilla y León". You will be rewarded for creativity and cultural knowledge, as well as language competence.
Prizes
1
st
Prize:
Three scholarships to cover the cost of accommodation, flights and a one-week language course in Castilla y León during the summer of 2023 for two students and their teacher.
2nd and 3rd Prize:
Three scholarships to cover the cost of a one-week language course in Castilla y León and accommodation for two students and their teacher during the summer of 2023.
Guidelines and Resources 
We suggest these easy steps to help produce your video:
Find a partner and have a planning session.
Do your research!
Decide who will do what.
Prepare the storyboard.
Adobe is also a great tool.
Learn about making a film here.
You can also use images from the Junta de Castilla Y León website for your video.
Shoot the video using a camera, smartphone, or webcam. Take lots of footage, you can always edit it later.
Consider using a microphone for better sound quality and be mindful of background noise.
Edit the video to a maximum length of 2 minutes (cut the parts you do not like, add the sound, include credits)
Once you are happy with the results, email the video to support@ppli.ie or upload the video to a platform such as YouTube and send us the link by Sunday 16th April 2023.
Criteria
Your video will be assessed according to the following criteria:
Adherence to guidelines outlined above
Use of language (good vocabulary, grammar, pronunciation and fluency)
Demonstration of appropriate cultural knowledge
Creativity (is the video original? Do we want to see more?)
Production (is the film well planned? Are sound and image quality good?)
Terms and Conditions
Entries must be emailed to support@ppli.ie before Sunday 16th of April 2023.
Videos should contain the name of the authors, their teacher, and the school's name, town and county.
All music and images used must be credited/acknowledged. We suggest you use copyright free music, or simply play yourself! It is the entrant's responsibility that the film does not infringe copyright.
The jurors' decision will be final, and no correspondence will be entered into. The jury will select the best videos based on their creativity, final production, and content.
By entering the competition, you agree to post photos/comments on the Post-Primary Languages Ireland Facebook page during your stay in Spain.
The entrant retains copyright over their original work, but by uploading a video, the entrant grants permission to Post Primary Languages Ireland/Languages Connect to use the content for promotional material or as exemplars of learning.
In recognition of GDPR, entrants need to submit the consent form with the signature of the parent/guardian for PPLI to hold the entrant's personal information necessary in order to process their entry. The personal information of the entrants and parents/guardians will not be used for any other purpose, and the consent can be withdrawn at any time.