At Languages Connect, we'd like everyone to be able to cheer on Ireland's Rugby team in Japan, so we've created a pocket-sized Japanese Survival Guide and some online games to help you learn more about Japanese language and culture.
Click on the link below and you can 'try' out all the essential rugby words and phrases as well as learning about Japanese letters, numbers and even emojis!
For even more of an insight into Japanese culture, you can play our new online game – which will help you introduce yourself, say hello and tell all your Japanese friends your likes and dislikes. Click below to find out more!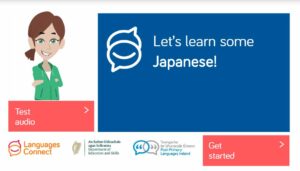 For more information on learning Japanese and many other languages, check out our Language Pages