#ThinkLanguages Announcements
#ThinkLanguages 2022 - Save the Date!
We're very happy to announce that #ThinkLanguages will be back again in 2022 for its fifth year – so save the date! This year the fun and celebrations will happen on Thursday 17 November 2022. Details will be announced in the coming months – so keep your eyes on Languages Connect social media for more!
Thanks again to all those who took part in #ThinkLanguages 2021. There were brilliant events nationwide! This year we had a variety of competitions for schools & individuals.
We're happy to announce the winners are…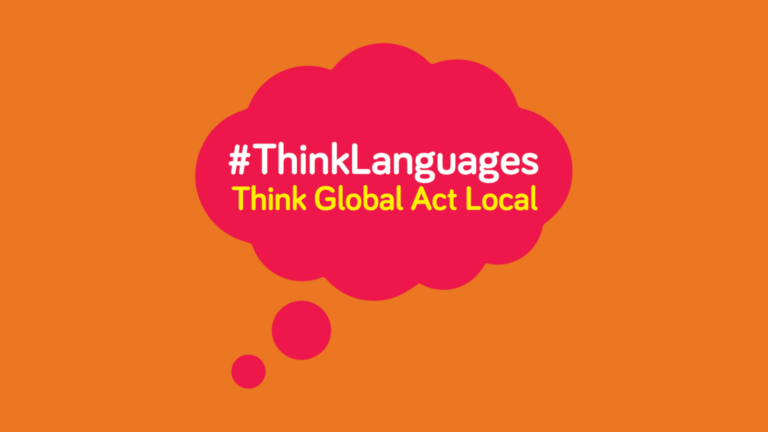 #ThinkLanguages National Champion Team Award 2021
Saint Conleth's Community College in Newbridge, Co Kildare have been chosen as the overall #ThinkLanguages Champion Team 2021. The team put on a brilliant event, led by their Champion Team Leader Elmira Murat. Well done to all involved!
Prize: The Champion Team will have the opportunity to enjoy a full day of live workshops in their school for everyone in TY. 
Mercy Secondary School Mounthawk in Tralee, Co Kerry win the Social Media Competition 2021. There was a lot of competition for this prize due to the massive amount of social media content created by so many schools – so well done to Mercy Mounthawk!
Prize: iPad for the MFL Department in the school.
TY student Isobel Murphy from Loreto Secondary School Balbriggan, Co Dublin has won the first ever #ThinkLanguages Mural Competition. We're looking forward to seeing Isobel's artistic impression of what #ThinkLanguages means painted on a wall in her school!
Prize: Languages Connect will send a professional artist to your school and make your mural design a reality.
Euro Languages College - Individual Competition
The first of our new individual competitions gave you the opportunity to share a video in your favourite foreign language of how you spend a typical day. We have two lucky winners of this competition. Well done Gagik and Eva – some great creativity and film-making skills used! Click on the links below to watch the prize-winning entries.
Gagik Avetisyan from St. Benildus College, Dublin
Eva McParland from Malahide Community College, Dublin.
Prize: A 3-week summer residential course in French, German or Spanish. You'll stay in a boarding school and be fully immersed in your chosen language. There are 5 different locations to choose from – Kildare, Clare, Westmeath, Limerick and Cork. For more info on Euro Languages College courses click here
EIL - Individual Competition
Congratulations to Mihaela Mosnegau from Swords Community College who has won the 3 month scholarship and will be going to study in Spain.
Prize: A fully funded 3-month scholarship to a country where the language you are learning is spoken. You will stay with a host family and attend a local school. Emphasis is on full language and cultural immersion.
For more information about EIL Intercultural Learning Experiences click here