CAO Language Course Applications
17% increase in CAO applications for Languages
There has been a sharp increase in demand for language courses at Third Level in the first round of CAO applications this year, with 17% more first preference applications than 2021. In addition to this, the category of Interdisciplinary programmes and qualifications involving arts and humanities has recorded the biggest rise in popularity – an increase of 59%. 
Courses such as European Studies at Trinity (+23%), and Humanities at UCD (+29%) have all seen significant rises in the numbers of applications.
Applications for the MTU degree in International Business with a Language have increased considerably, and a new BBA Business and Languages degree at Maynooth University has also had strong interest.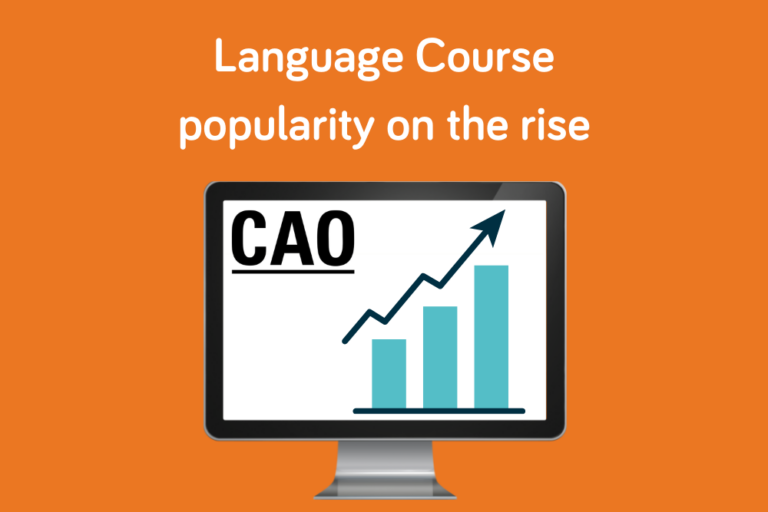 Languages at Third Level – so many options
There are so many options for including languages at Third Level now. According to the Careers Portal Course Finder there are 514 courses nationwide that your students could choose with at foreign language included at Major, Minor or Elective Level. A language is a life skill that brings with it a lot more than just career benefits. A language is a life skill that brings with it a lot more than just career benefits. Encourage your students to check out the Course Finder and see what language options are open to them. Some courses will also have the option to study abroad for a term or academic year.
Third Level Language Learning – The experience of a lifetime
Hear some real-life stories of language students who recently studied abroad as part of their course on our Third Level Student Stories playlist.
Languages Connect collaborates with many of the third level institutes to help promote language courses. For more information on some of our current campaigns with UCD, DCU and GMIT check our At Third Level section.
Students see the benefits of languages for their careers across a wide variety of sectors – everything from translation, interpreting, online gaming, tourism, international business, medicine and engineering all require and benefit from language skills. If you are interested in hearing more about people who use languages in their jobs everyday, check out our Working with Languages playlist.